The soprano recalls the hardships of growing up in Tirana under Enver Hoxha's rule and how she began a new life in the US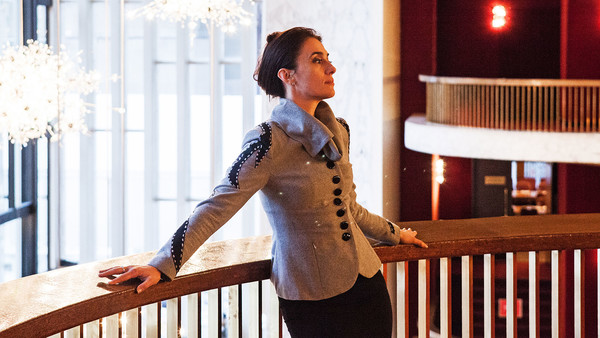 ©Alexander Welsh
Her voice precedes her, notes plangent and impassioned soaring from the rehearsal room. Ermonela Jaho is in London, preparing for Leoncavallo's opera
Zazà
, whose title role she is recording for a new CD. "It is very sad," the soprano says later. "When Zazà sings of her childhood without mother or father, it reminds me of my own mother's experience."
Jaho was born in 1974 in Enver Hoxha's Albania, and moved with her family to the capital Tirana when she was two. Her mother — who was abandoned by her parents and raised by her grandmother — had wanted to be a singer and secretly auditioned for the Tirana Conservatoire, where she was offered a place. "But her family was furious, and wouldn't let her go," says Jaho. "As a child, I would see that pain of unfulfilment in her eyes, but did not understand the cause of her sorrow."
Jaho inherited not only her mother's love of music, but her sense of melancholy. Albanians, she says, are generally loud and passionate but she was a timid child. "I kept everything inside". Her older sister, who has a disability, was her best friend, and children made fun of her at school. "The only time I felt free was when I was singing. It was my therapy," she says.
Encouraged by her father, "a military man who studied philosophy", Jaho entered the Conservatoire aged 17 after gaining top marks in the entry exam. There, she attended a masterclass with Italian soprano Katia Ricciarelli, who invited her to study in Mantua, Lombardy, for two months. Jaho went to Italy in 1993 and would remain there for the next 10 years.
"I didn't want to go back," she says. "Italy is the home of
bel canto
. In Albania, under communism, everything was sung in Albanian — you could go to prison for speaking another language. My father taught me a little English when I was little, but in secret."
Jaho entered Rome's prestigious Accademia Nazionale di Santa Cecilia. To sustain herself during her studies, she worked as an au pair and then, using the prize money from a singing competition, moved into a hostel run by nuns. "Sometimes, I had no money for food, but I never told anyone," she says. "I realised that, to achieve my dream to sing opera, I had to make sacrifices. 'Ermonela', I told myself, 'you must overcome these obstacles'."
Another obstacle was being Albanian. "You were made to feel like a third-class citizen." After she became famous, she notes, things were different: "Everyone wants to be your friend".
Jaho's break came when she was offered the part of Mimi in a production of
La bohème
in Bologna. Roles started coming in and, after completing her studies in 2000, she decided to move to the city. It was around this time that her childhood friend, Ervin Stafa, came to visit from New York and asked her to move to the US with him.
"I grew up with Ervin in Albania," she says of her now husband. "He was the only person I could talk to, who never judged me. When I left for Italy I told him: 'If I ever marry anyone, it will be you'. I think it scared him, coming out of the blue like that. Then he won a lottery for a green card to the US and I'd find any excuse to write to him from Italy."
Jaho was initially wary about moving to New York. "I'd fought so hard to establish a career, I was afraid of losing it," she says. Then Alan Green, who at the time worked for the New York talent agency Columbia Artists Management, came to hear her in
Carmen
. Jaho had been cast in several Baroque and comic operas and was seeking a more romantic repertoire. Green offered to manage her and achieve the roles she wanted. "He gave me hope that I would not have to start again from zero in New York."
Jaho made the transatlantic crossing in 2003, initially dividing her time between New York and Italy. Travel was difficult with her Albanian passport, so the couple decided to get married. In 2005, they bought a house on Long Island, where they still live, with Ervin's parents. ("It is the tradition in Albania, for parents to live with their son, and I am very respectful," she says.)
Sometimes,

I had no money for food, but I never told anyone . . . I had to make sacrifices to achieve my

dream
- Ermonela Jaho
Jaho still visits her family in Albania, giving fundraising concerts for children with disabilities "because I felt guilty I couldn't help my sister when we were growing up". Her greatest regret is that her mother never heard her sing live. "I would come to Albania, but her seat was always empty." Jaho thinks her mother might have found it too painful to watch her on stage because of her own unrealised ambitions, but she missed the opportunity to inquire. "I tried to write and ask her why, tell her how much I loved and missed her, but she died before I could send the letter."
When in the US, she relishes family life and loves to cook, preferring to stay at home rather than go out. "I can't say I have made many friends in America, outside of work," she says, attributing this to her frequent absences. "Long Island is a world apart, so peaceful. You have the ocean, and all the colours of nature. With all the [international engagements], I can only spend a couple of months a year there — but it's home, and Ervin is waiting for me."
In the US, she says, "people are more detached — they live like islands. In Europe, and especially in the Balkans, people are more open and emotional. But human beings are basically the same everywhere. I take the best from each country, and live life to the full."
Ermonela Jaho appears in 'Suor Angelica' at the Royal Opera House in Covent Garden, London, from February 25 to March 15