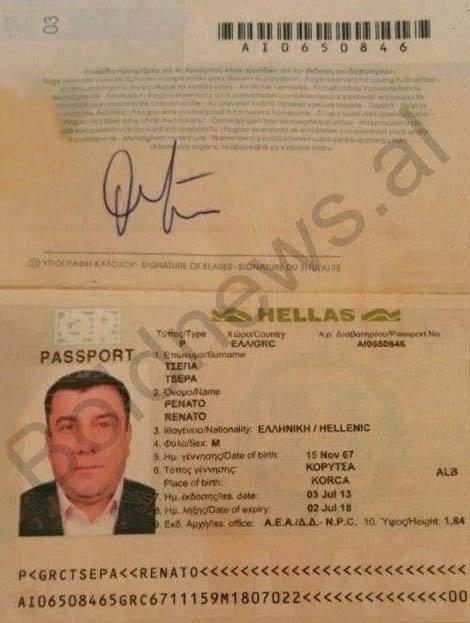 After nine months on the run from his life jail sentence, Albanian police have confirmed at Arben Frroku is under arrest in Holland.
Gjergj Erebara
BIRN
Tirana
Arben Frroku behind bars | Photo by : LSA
Albanian police have confirmed that Arben Frroku - who has been on the run since June 2015 - is under arrest in Holland, having been identified by his fingerprints while living under false documents.
Confirmation came after former prime minister Sali Berisha claimed that the Albanian police were deliberately not collaborating with the Dutch authorities on the atter in order to avoid his extradition.
"Do you know that Arben Frroku has been arrested for two months now - but the Ministry of Interior is not sending any confirmation of this?" Berisha told an interview with News 24 television.
Albanian police on Thursday confirmed Frroku's arrest in Holland - but did not say when the arrest actually occurred.
"Interpol in The Hague announced today at 17:15 to Interpol Tirana that Arben Frroku, sentenced by Albanian Justice to life imprisonment, was identified and arrested," the Albanian police press release noted.
"Interpol Tirana had been in contact during the last few days with... The Netherlands regarding this issue, but only this afternoon (28 April) came confirmation that the person arrested for using fake documents under the name 'Renato Tsepa', was in fact Arben Frroku," the press release added.
Frroku was sentenced to life in prison last year for murdering Dritan Lamaj, a police officer, on the evening of 24 February 2013.
He was arrested the following day in Thessaloniki, Greece. The businessman and head of a political party that his brother, Mark Frroku, later headed, pleaded not guilty. His lawyer claimed he was far away from the murder scene at that time.
The Court of First Instance in Tirana found him not guilty on April 3, 2015. However the Court of Appeals of Serious Crimes overturned the verdict on 29 June, 2015, found him guilty and sentenced him to life in jail. In the meantime, he had left the country, however.
Frroku's younger brother, Mark, who was an MP in parliament until he resigned last year, was arrested in April 2015 for perjury concerning allegations of a fake murder plot against two MPs, but also based on an arrest warrant from Belgium where the authorities seek him for a murder that took place in 1999.
A Brussels court has ruled that he was guilty of the premeditated murder of an Albanian citizen, Aleksander Kurti, in March 1999, in collaboration with three other men.