Ukraine crisis: Obama warns Russia that more sanctions are 'teed up'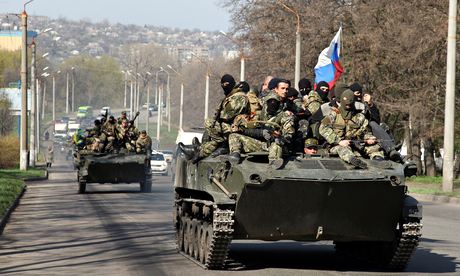 Warning comes as US accuses Moscow of failing to abide by Geneva pact to defuse tensions
Barack Obama
has said
Russia
is failing to respect the Geneva agreement to defuse tensions in
Ukraine
and the US has fresh sanctions "teed up" to impose on Moscow.
Under last week's accord struck by Ukraine, Russia, the US and the EU, militias in Ukraine were to disarm and give up control of seized state property. But law and order has deteriorated rapidly in parts of eastern Ukraine as Kiev and Moscow have accused each other of failing to follow through on the Geneva accord.
"So far at least we have seen them not abide by the spirit or the letter of the agreement in Geneva," Obama said in Tokyo at the start of a tour of Asia. "Instead we continue to see malicious, armed men taking over buildings, harassing folks who are disagreeing with them, destabilising the region and we haven't seen Russia step out and discouraging it."
If Russia did not play its part, he said, there would be "consequences and we will ramp up further sanctions".
His comments came as the Russian foreign minister, Sergei Lavrov, sounded a more conciliatory note and said Moscow expected the Geneva accords to "be implemented in practical actions in the near future".
On Wednesday, Lavrov accused the US of "running the show" in Ukraine after a visit to Kiev by Joe Biden, the US vice-president, and said Russia would
respond if attacked
. Obama said new sanctions would come into force in a matter of days, not weeks, if the agreement was not implemented but acknowledged that the US needed to secure the support of allies to ensure additional economic pressure was evenly applied.
He conceded that new sanctions may not change the calculations of his Russian counterpart, Vladimir Putin. "There are some things the United States can do alone but ultimately it's going to have to be a joint effort, a collective effort," Obama said during a press conference with the Japanese prime minister, Shinzo Abe.
The pending penalties on Russia are expected to target wealthy individuals in Putin's inner circle, as well as the entities they oversee. Although the US has also threatened to levy potentially crippling sanctions on key Russian industries including its energy sector, officials say they plan to employ those tougher penalties only if Russia moves military forces into Ukraine.
The US and
Europe
have already issued asset freezes and visa bans targeting Russian and Ukrainian officials in response to the Kremlin's annexation of Crimea. Obama's comments underline the difficulties he faces in devising a united western response to Russia, with Europe dependent on Russian gas supplies.
more see: http://www.theguardian.com/world/2014/apr/24/geneva-deal-ukraine-russia-sergei-lavrov