The three men, of Iraqi Kurdish origin, were stopped in possession of a mammoth cache of arms and ammunition of the Greek-Turkish border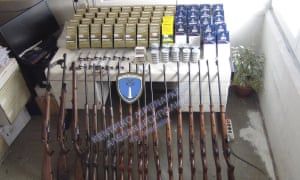 Rifles and ammunition found during the arrest of three Iraqi Kurds with British passports in two separate operations. Reuters
Helena Smith in Athens
Sunday 14 February 2016
The arrest in north-east Greece of three British men with a mammoth cache of arms and ammunition has heightened fears of Europe's weakest link becoming a major route for the trafficking of weapons bound for Syria and Turkey.
On Sunday, counter-terrorism officials were investigating three men – all Iraqi Kurds with British passports – seized in two separate operations near the Greek-Turkish frontier. They were found in possession of 22 firearms and more than 200,000 rounds of ammunition.
"Vigilance in the area is being stepped up," said one security official, adding that the suspects were likely to have crossed into Greece from Italy. "At this stage, nothing can be ruled out, including a link between this and last month's arrests."
On 31 January, a suspected jihadi of Bosnian origin and an accomplice believed to hail from Yemen were stopped in the same region with combat material also bound for Turkey. The pair, who are both Swedish passport holders, were charged with terrorist activities after appearing before a local prosecutor.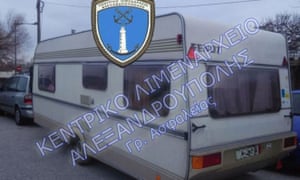 A caravan in which guns were found Photograph: Greek coastguard
The latest arrests were made after the three men, said to be aged between 35 and 40, aroused suspicion because of the trailers with which they were travelling. Acting on a tipoff, Greek police and coastguards stopped two of the suspects at the entrance to the port of Alexandroupolis, a commercial hub in north-east Greece, late on Saturday following a surveillance operation that had lasted several days.
Photographs have since been released showing 18 shotguns and almost 40,000 bullets found in secret compartments in the caravan.
The third, also driving a caravan with German number plates, was arrested near the Kipoi border crossing on the Evros river early on Sunday. Inside, police found four Walther pistols, tens of thousands of small-calibre cartridges, eight sets of night-vision goggles and cash in various currencies.
The stories you need to read, in one handy email
Read more
All three will appear in court on Tuesday, where lawyers say they have asked to speak Kurdish. They are to be charged with illegal possession of arms and weapons smuggling.
"We are in contact with local authorities in Greece following the arrests of three British nationals and are providing consular assistance," a spokesman for Britain's Foreign and Commonwealth Office said.
Greek security authorities said that, while they had no evidence to link the men with Islamic State, they were working in close collaboration with foreign security services over the influx of refugees and economic migrants across Greece's porous border with Turkey.